Best Animal Attractions In The UAE
Publish date:

Wednesday، 02 June 2021
Related articles
From futuristic skyscrapers to the desert, the UAE is the best place to live it all. Once you visit UAE, you'll be mesmerised by everything it can offer.
Therefore, if you are an animal lover and would love to witness some, then here are the most prominent animal attractions in the UAE.
Al Ain Zoo has opened in 1968, it features a large collection of local wildlife as well as giraffes, reptiles and big cats adding up to 184 different species. Located at the foothills of the Jebel Hafeet Mountains, the grounds are huge and the conservation and breeding programs are impressive, plus the zoo is open late for those wishing to safari in the dark. The petting zoo has Shetland ponies, rabbits, and the like for little ones to feed.
If you want a zoo with a twist that includes a set of different activities, then you should definitely visit Al Tamini Stables. It is a private farm and education center in the deserts of neighboring Sharjah is home to a menagerie of creatures, not just the equestrian kind, and features a petting zoo as well as a whole host of other activities. There are pony rides, falcon displays, sporting facilities including basketball and badminton courts, football fields and even a recording studio for budding musicians, arts and crafts. Picnic tables, a café and showers provide all the onsite amenities an action-packed outing need, and the chance to get up close and personal with plenty of furry friends.
Atlantis Lost Chambers Aquarium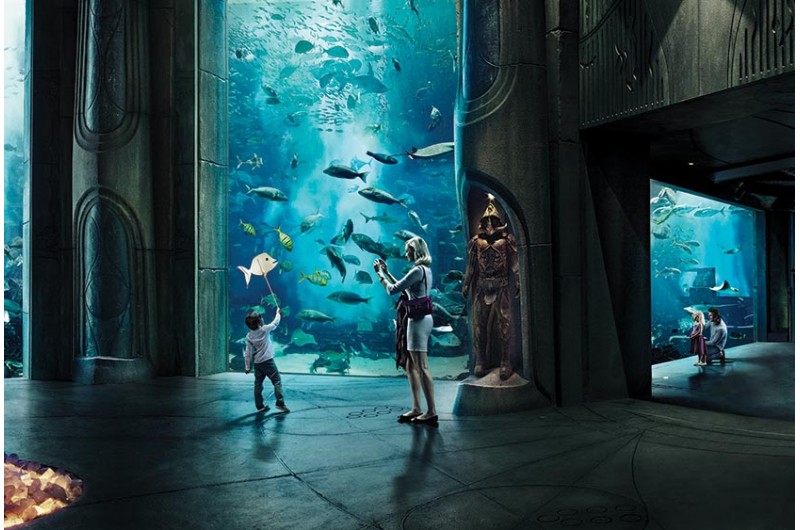 If the ocean mesmerizes you then Altantis Lost Chambers Aquarium is a maze of tunnels and tanks that are home to 65,000 marine animals, with not a whale shark in sight. For a little extra, kids can learn about the marine life around them from tour guides and divers. Behind the Scenes tour and the frenzy of Fish Feeding.
Image Source: Unsplash