The Story Behind Dubai's Palm Island
Publish date:

Thursday، 27 May 2021
Related articles
Dubai is known for landmarks such as the Burj Khalifa, Burj Al Arab, and more. However, the one landmark that represents UAE the most is no other than the Palm islands. Lets go back to before the Palm island existed.
In 2001, there was nothing off the coast of Dubai but warm, shallow gulf water. Then Nakheel, a local real estate conglomerate, dredged 3 billion cubic feet of sand from the seafloor and used GPS precision to shape it a 17-fronded palm tree. Seven million tons of mountain rock was piled around the island to form a crescent-shaped breakwater seven miles long, designed to protect the newborn island from waves and storms.
The Palm is known to be a man-made marvel and self-styled "eighth wonder of the world", the developer of Palm Jumeirah was Nakheel, a real estate company now owned by the government of Dubai. The master plan was drawn up by Helman Hurley Charvat Peacock, an American architectural firm. The islets were made mostly from sand dredged from the floor of the Persian Gulf, but the side of the crescent that is exposed to the open sea was shored up with stones and boulders from the mainland. Work started in 2001, and land and basic infrastructure were in place by 2004. Construction of the buildings began in 2006, and the first residents arrived in 2007.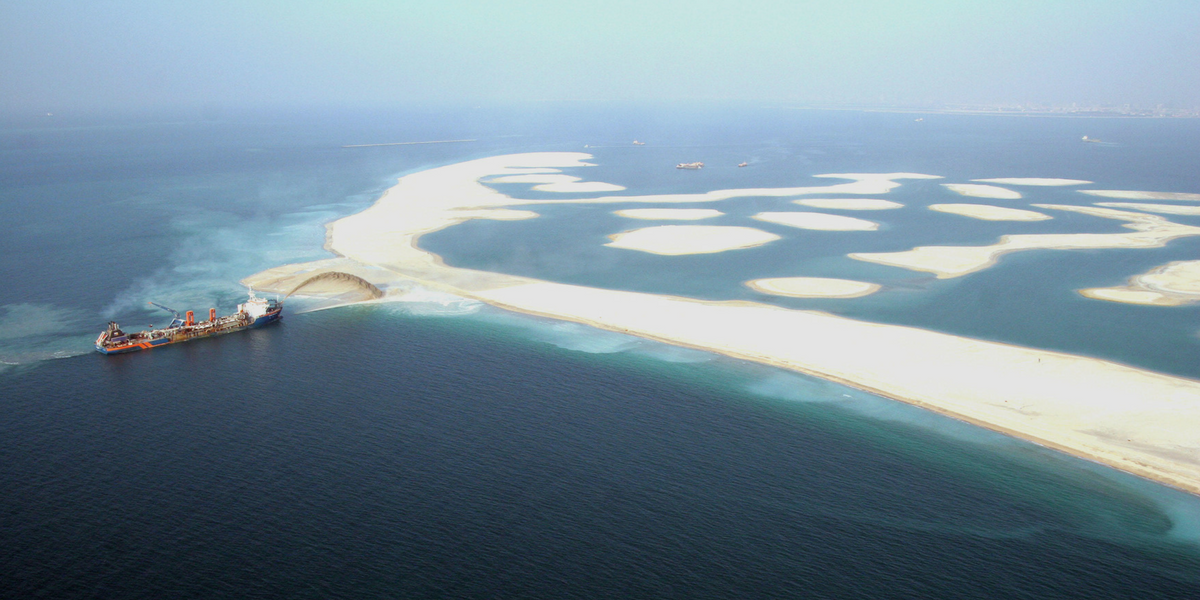 The palm tree has always symbolized UAE as this symbol represents food and water, something very hard to find in the desert. These are widely cultivated and their fruit is called a date. Dates are "nature's candy" and beneficial for overall health and the palm tree is the inspiration behind the creation of the palm islands.
Nakheel projected that the first Palm would hold 120,000 residents, but it's currently home to about half that number. Sheikh Mohammed himself once wrote, "Take wisdom from the wise / It takes a man of vision to write on water / Not everyone who rides a horse is a jockey / Great men rise to greater challenges."
Image Source: WAM